How to Deactivate Kik or Delete your Kik Account permanently (Without Email): Once Kik Messenger used to be a very popular messaging app for Android (and iPhone), but after the app has drawn controversy because of its reported involvement in a number of occurrences of child exploitation, people are avoiding this app.
After that incident, many people criticized the app for being careless as well as for weak parental control mechanisms. Now, most of the people want to delete the app and perhaps none of your friends or family member uses it anymore.
How To Delete Your Kik Account Permanently?
Especially if you are a parent, you don't want your children to get involved with this app. So, with the help of this article, we are going to provide you brief guidelines to Deactivate Kik and Delete Your Kik Account. So, without wasting any time let's get started….
What is Kik Messenger?
Kik Messenger, which is most commonly known as Kik, is a freeware instant messaging mobile app from the Canadian company Kik Interactive. The app is accessible on iOS and Android operating systems for free of cost.
The app uses data plan of the smartphone or else the Wi-Fi in order to transmit and receive messages, photos, videos, sketches, mobile webpages, as well as other content after users register a username.
Kik is known for its features preserving users' anonymity, such as allowing users to register deprived of providing a telephone number. On the other hand, the Kik application logs user IP addresses, which the company can also use to determine the current location of the user.
Kik Permanent Delete-
Kik Messenger was very popular as of May 2016 and had almost 300 million registered users, and was used by around 40% of United States teenagers.
After the Kik Messenger controversy came into consideration due to its reported involvement in a number of events of child exploitation. From then onward, the app has been very much criticized for being unsafe for minors because of its privacy features.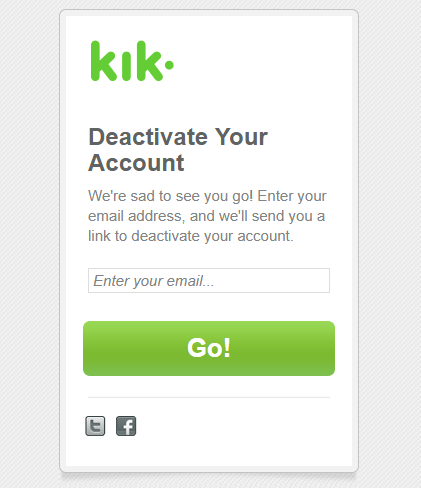 How To Deactivate Kik Account?
You must have noticed that Kik doesn't let you delete your account through its mobile app. For this, you will have to go through its website portal.
At first, you have to head to the Kik account deactivation page. There you will find that Kik offers two options for deactivating your account that is temporarily or permanently.
In temporarily deactivating, you can temporarily disable your account. With this deactivation, one can search you or contact you and you won't get any more messages. But if you want you can again sign back in to enable it for usage.
For temporarily deactivating, you just have to visit the Kik temporary deactivation page and enter the email address you used to sign up. After that, you will receive a link through email which you can use to deactivate it.
Delete Your Kik Account-
In permanently deactivating, your account will be deleted permanently and you will have no access to your account anymore, even if you want to afterwards. Once it is done, your account will be deleted for permanently.
For permanent deactivation, just head it for its permanent deactivation page and enter your username, email address, and the reason for leaving. Confirm it by clicking on Go, and that's it you are all done!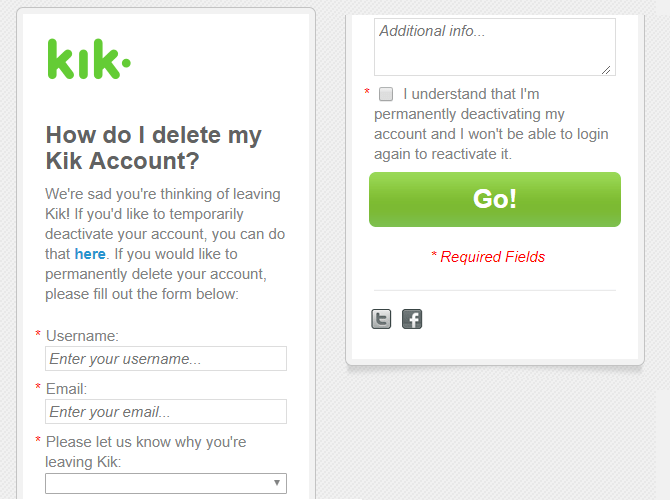 When you Delete Your Kik Profile:
Your Profile will be no Longer accessible and you can never Recover your Profile.
You are not able to receive any more Messages or Emails from the Team.
No one will be Able to Search your Username on Kik.
After some time, Your Kik Profile will be Deleted For the People you Have Talked To.
Bottom Lines
Kik is the Most Popular Messaging App for Android and iOS users. If you are looking to take control of your Kik's Account then probably you are Wondering How to Delete Permanently the App from to Device. Here in this Page, we have provided everything you need to do to permanently or temporarily delete your account on this popular messaging app.